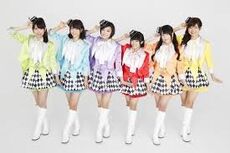 I☆Ris (アイリス Airisu) is a Japanese idol group formed in 2012 by Avex. It currently consists of 6 members. Each one of them has been assigned a color.
I☆Ris performed the theme songs for the anime series Battle Spirits: Sword Eyes (バトルスピリッツ ソードアイズ Batoru Supirittsu Sōdo Aizu), Mushibugyo (ムシブギョー Mushibugyō), and Pretty Rhythm Rainbow Live (プリティーリズム・レインボーライブ Puritī Rizumu Reinbō Raibu). It has been revealed that they also perform the theme songs for Puri Para and that each member will be voicing a main character (except for Faruru).
The name of the group comes from the word "Iris" which means "rainbow" in Greek. It also refers to the flower of the same name.
I☆Ris (アイリス Airisu)
Years active : 2012 – present
Label : Dive II Entertainment
Agency : Avex
Yamakita Saki (山北早紀) (Green), leader, Shion Todo's seiyuu
Serizawa Yu (芹澤優) (Blue), Mirei Minami's seiyuu
Akaneya Himika (茜屋日海夏) (Purple), Lala Manaka's seiyuu
Wakai Yuki (茜屋日海夏) (Red), Leona West's seiyuu
Kubota Miyu (久保田未夢) (Orange), Sophie Hojo's seiyuu
Shibuya Azuki (澁谷梓希) (Yellow), Dorothy West's seiyuu
Discography
Edit
07/11/2012 : Color
22/05/2013 : Ichizu (イチズ)
21/08/2013 : §Rainbow
20/11/2013 : Wonderland
18/06/2014 : Itazura Taiyou (徒太陽)

03/04/2013 : Kaba☆Risu (カバ☆リス)